Awake refreshed and rejuvinated after a restful night spent in your luxurious queen featherbed, the aroma of fresh-brewed Columbian coffee beckoning you to breakfast at your intimate table-for-two.
There is nothing "ordinary" about our complimentary breakfasts, so come and enjoy a different kind of breakfast experience that you'll not soon forget!

Our complimentary set-menu* breakfasts are served in our breakfast room at your choice of either 8 or 9:15 a.m., allowing plenty of time to leisurely enjoy our tasty offerings. For guests with food allergies or restricted diets, we offer a simplified "alternate" breakfast on request.** Our alternate breakfast can accomodate vegan, gluten or dairy free and vegetarian dietary restrictions. Can't stay for breakfast? No problem...we'll be happy to pack you one of our delicious "Grab'n Go" breakfasts that includes juice, fruit, home-made muffin, granola bar & cheese.
* Set-Menu Breakfasts: all guests receive the freshly prepared breakfast of the day. ** Dietary Restrictions: please let us know of any dietary restrictions when booking.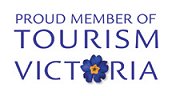 _________________________________
________________________
____________
Home page

Our Inn

Our Guest Rooms

Guest Comments

Secure Reservations
& Availabilty

Cancellation Policy